Fire Prevention Month Kickoff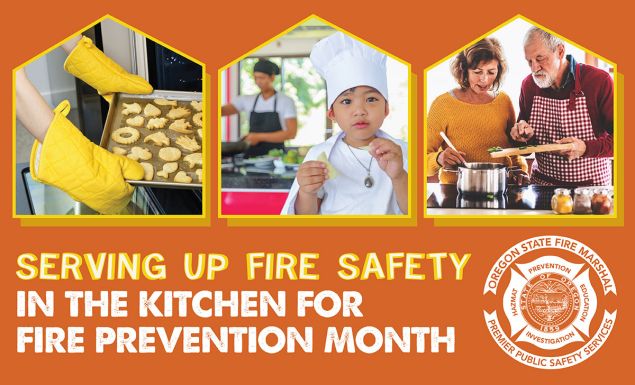 Serve Up Fire Safety Image

Help us celebrate by taking a moment to brush up on your Fire Safety skills in the Kitchen.
Cooking has consistently been a top cause of home fires in Oregon, making up an average of 19 percent of home fires over the past five years. Do your part as we promote this year's theme "Serving Up Fire Safety in the Kitchen"

Tips to get you started:
Cooking fire safety tips:
Keep an eye on what youíre cooking- donít leave cooking unattended.

Keep your cooking areas clean and clear of combustibles (potholders, food packaging, towels, etc.) and wipe up surface spills.

Create a three-foot kid- and pet-free zone around the stove.

Older children should only cook with permission and under the supervision of an adult.

Have a lid or cookie sheet within reach while cooking (to smother flames) in case of a fire.
Safety tips for if a cooking fire does start:
Put a lid on it! Slide a lid over the pan (from the side) and then turn off the burner.

Donít move the pan until the fire is completely extinguished and cooled, and donít try to transfer the pan to the sink.
If you cannot extinguish the fire:
Get you and your family safely out of the house.

If you can, close doors as you are escaping, to help contain the fire.

Call 911

from a safe place (outside).
Cooking Fire Safety PDF Flyer Available From Oregon Office of the State Fire Marshal