Attention Santiam Canyon Landowners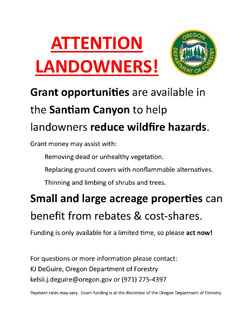 Picture of ODF Grant Flyer_SC

Is your home ready for a wildfire?
Oregon Department of Forestry has a grant program to help reduce wildfire risk around your home and protect your property. See the attached flyer to schedule a visit from a community wildfire forester to evaluate your home and property. Being prepared is the key to increase the chances your home will survive a wildfire.
Stayton Fire District encourages residents to be prepared for a wildfire, itís not if, it is when wildfire strikes home that being ready may make a difference.
Click here, to view PDF document with more information
!